On behalf of Fr Jophin Joy and our Community, I welcome you to our Website as you learn more about St Joseph's. We are a strong and flourishing school. We continue to grow and develop, combining the best of our traditions with new programs, facilities and technologies that best meet the needs of our students and families.
Our school was founded by Saint Mary MacKillop. Incredibly, she became Australia's first Saint in October 2010 which makes it even more special as we work to continue the tradition that is her legacy; a school that is a place where God is named and recognised and where Christian Values are lived out.
"We are Open to All Who Seek Our Values"
As a school, we strive to provide an atmosphere in which each child's talents and skills can be recognised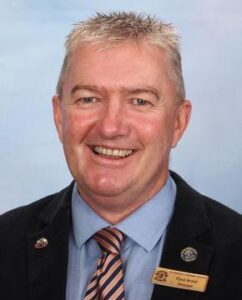 and developed to their fullest potential. We work to instil a sense of self-discipline in our children where they respect each others' differences and encourage each other to strive to be their best. We stress that their decisions and actions affect those around them. Our Social Skills are based on our TRIPLE A. Saint Mary MacKillop said, "Never see a need without doing something about it!" At St Joseph's we : need to have a positive Attitude, need to be Aware and need to take Action.
The school is proud of having the most modern facilities available. Our recent additions and refurbishments have continued to set the benchmark in terms of provision of a modern, safe and stimulating environment that reflects teaching and learning in the 21st Century. Many parents and visitors comment on how things have changed since they went to school. I say thank goodness. Our modern day school must be ready to meet the needs of children brought up in a technological, open and questioning world. Our social groupings and resources must reflect our modern world and I am proud to say we strive to do this. We keep the best of the old but are not afraid to be innovative and creative in doing what's best for our children.
While we implement a broad and comprehensive curriculum in our classrooms, we also have in place a range of specialist subjects and extra programs to add to our children's experiences. We expect our students to participate in all that we do. We ask each boy and girl to
"Have a Go at Everything and Do Your Best"
Our staff is a vibrant team. We blend an excellent balance of experience and youth, both male and female. I am proud to lead this group of professionals.
This website should provide you with an outline of what we offer our students and families. If you are interested in finding out more about St Joseph's then feel free to give me a call. I would be happy to answer any questions you may have and show you around our magnificent school. We welcome all families, regardless of religious or cultural background and strongly support those experiencing financial difficulty or hardship.
I look forward to meeting you.
Yours Sincerely,
Paul Arnel
Principal.